If you have restlessly been waiting to get your hands on the iPhone 12 when Apple finally makes it available to the public, a recently surfaced news from the company that makes processors for the phone may influence your decision.
The impending iPhones will pack a new A14 Bionic chip under the hood. The newfangled processor is touted as the mammoth upgrade from its predecessor, the A13 Bionic that power the current lineup of iPhones.
During its annual technology symposium, TSMC, which manufactures the Apple-designed processors for the iPhone, divulged some of the advantages of the new 5-nanometer process that is likely to be used for the next iPhone processors. If a table (via Anandtech) comparing the impending chip to the existing A13 Bionic is anything to go by, the A14 Bionic chipset will enhance performance by a significant 15 percent, while consuming 30 percent less power.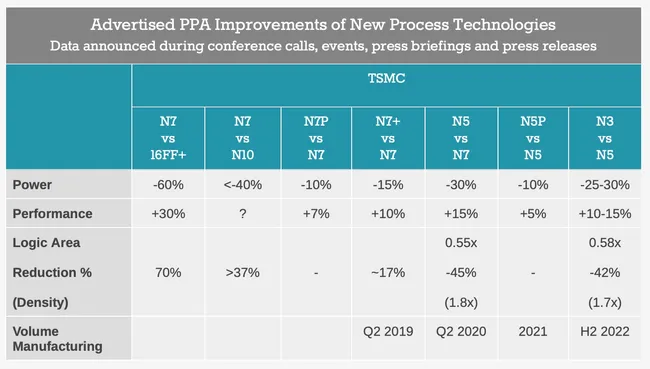 Most of the upgraded performance and power efficiency seems to be coming from the shift to a 5nm process for the new A14 chipset, and with transistors becoming smaller, the chip housing capacity also increases. While the current A13 Bionic model features 8.5 billion chips, the A14 Bionic variant is slated to pack a staggering 15 billion chips.
If this comes to fruition, the iPhone 12 series would be the first smartphones to pack a 5nm chip, blowing Samsung Galaxy lineup out of water. TSMC is making the newer 5nm node dubbed N5P to expedite volume manufacturing in 2021.
TSMC claims it will be offering a 10 percent energy performance upgrade or a 5 percent upgrade to performance when it becomes available. If this is the case, it would be hardly surprising to see the new chip in the next iPhone lineup slated to hit the store shelves next year.
TSMC also referenced a 3nm design that is slated to arrive in the second quarter of 2022, probably for the iPhones scheduled to be launched that year. The performance gain than could be between 10 percent to 15 percent.
Details revealed by TSMC and slew of other A14 leaks have bragged about the chip's performance potential. Previously leaked benchmarks have hinted at a performance that matches the iPad Pro, and there's hearsay that phones powered by the A14 chip could theoretically match Apple laptops in terms of speed.