Huawei Freesbuds Pro: Chinese tech giant Huawei has ratified to launch its latest product 'FreeBuds Pro True Wireless Stereo (TWS)' in China on the 10th of September.
Along with this, the company has confirmed to release a few other products such as the Huawei GT series and Huawei Fit by next week. Some essential information regarding the upcoming product was leaked on a Chinese microblogging website Sina Weibo.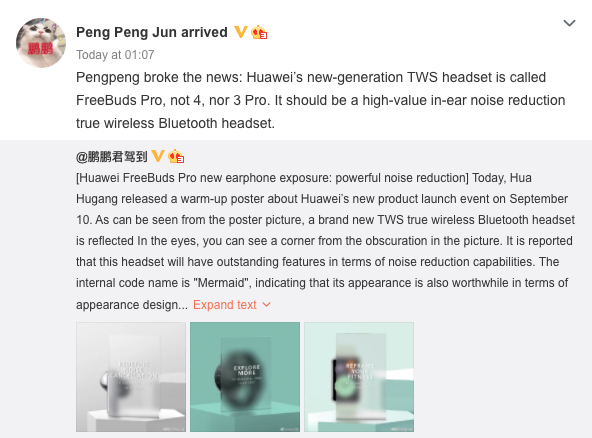 The details mentioned that the earphones were internally code-named 'Mermaid' and had some phenomenal features in terms of noise reduction capabilities. It is expected for this TWS model to offer high-quality audio and active noise cancellation.
Earlier, the company exerted a numerical order for its previous models of the same series as FreeBuds 2, FreeBuds 3, etc. but now they've pulled the plug on the numerical ordering and alternately appended 'Pro'.
Huawei's latest model in this series, FreeBuds 3i (an extension of FreeBuds 3) is available in Carbon Black and Ceramic White for Rs. 9,990 in India. So far, the price of FreeBuds Pro and its colors hasn't been disclosed yet.
In addition to the FreeBuds Pro, there's another official Weibo post that shows a few other devices slated to be unveiled on the same day. If the silhouettes are anything to go by, we can expect the company to launch two smartwatches, laptops, and audio earphones.